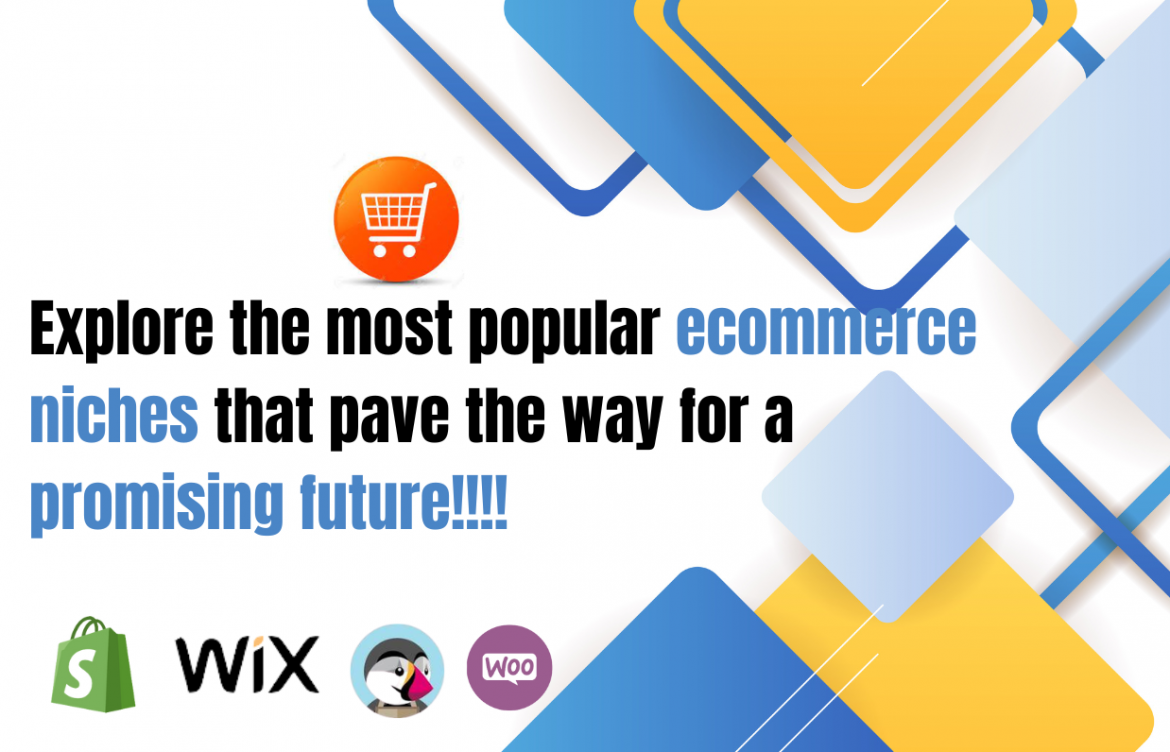 By tips_phanomp
Discovering The Most Popular E-commerce Niches & building A Promising Future!!!!
In the ever-evolving landscape of online commerce, finding the right niche is akin to discovering a gold mine. The digital realm offers entrepreneurs unprecedented opportunities, but success often hinges on choosing the right path. In this pursuit, exploring the most popular ecommerce niches emerges as a promising strategy, paving the way for a lucrative and sustainable future.
Fashion and Apparel
The fashion industry is a perennial favorite in the ecommerce world. With the rise of fast fashion and sustainable clothing lines, online stores catering to unique styles and eco-conscious consumers are thriving.
The health and wellness niche is experiencing a boom, with consumers seeking fitness equipment, organic supplements, and self-care products. Ecommerce platforms catering to physical and mental well-being are not just profitable but also contribute positively to society.
Home Decor and Lifestyle
Home is where the heart is, and people are investing in making their spaces beautiful and functional. From eco-friendly home products to trendy decor items, ecommerce businesses focusing on creating aesthetically pleasing homes are gaining momentum.
Tech and Gadgets
In the age of technology, the demand for innovative gadgets and tech accessories is insatiable. Ecommerce entrepreneurs offering cutting-edge electronics, smart devices, and accessories find a dedicated customer base eager to embrace the latest trends.
Niche Hobby and Collectibles
Passionate hobbyists and collectors often seek specific items that are hard to find in general marketplaces. Ecommerce niches catering to hobbies like vintage gaming, rare book collecting, or specialized crafts have a dedicated audience willing to invest in their passions.
Sustainable and Eco-friendly Products
With the increasing awareness about environmental conservation, eco-conscious consumers are actively seeking sustainable alternatives. Ecommerce businesses focusing on eco-friendly products, from reusable packaging to zero-waste essentials, are not only profitable but also contribute to a greener planet.
Specialty Foods and Beverages
Food enthusiasts and health-conscious individuals are exploring unique culinary experiences. Ecommerce platforms offering specialty foods, organic ingredients, or international delicacies cater to a niche market that appreciates quality and variety.
Online Learning and Skill Development
The thirst for knowledge knows no bounds. Ecommerce platforms providing online courses, workshops, and skill development programs are empowering individuals globally. As the world embraces continuous learning, this niche is bound to grow exponentially.
In conclusion, the key to building a promising future in ecommerce lies in identifying a niche that aligns with market trends and personal passion. By delving into these popular ecommerce niches, entrepreneurs can not only tap into lucrative markets but also make a positive impact on customers' lives.
Remember, success in ecommerce is not just about selling products; it's about creating valuable, memorable experiences for your customers, setting the stage for a prosperous and fulfilling entrepreneurial journey.


Have a wonderful Day !!