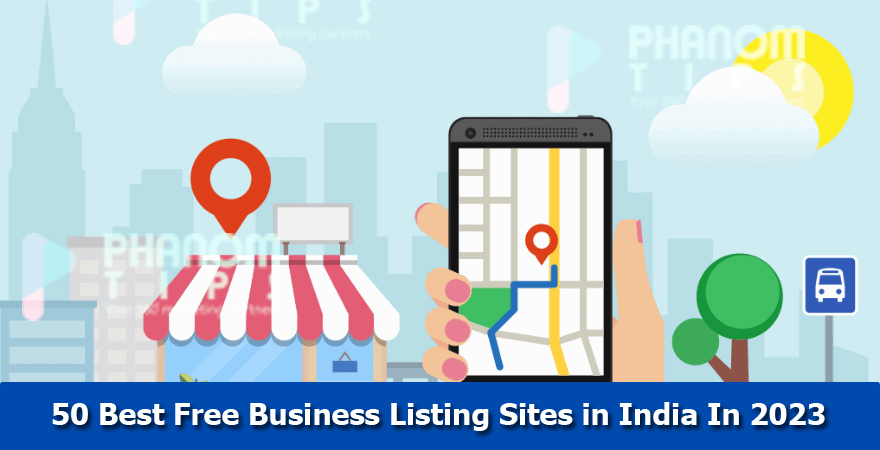 By tips_phanomp
50 Best Free Business Listing Sites in India In 2023
50 Best Free Business Listing Sites in India In 2023
If you own a business and you want more and more people to connect with you, you first need to show your business. For that, you need to be at a place where your potential customers are more active. When they see your business on the website, then they will get attracted to it. In this way, you will get more potential customers every day. Now you must be thinking about how to attract them?
What is a business listing?
A business listing is an online directory or platform that displays information about a specific business. It serves as an online profile or advertisement for a business, providing details such as the business name, address, phone number, website, hours of operation, and a brief description of the products or services offered. Business listings are often organized by category or location to help users easily find businesses that match their needs or interests.
Business listings can be found on various platforms, including search engines like Google, online directories, review sites, and social media platforms. They offer businesses an opportunity to increase their online visibility and reach potential customers who are actively searching for products or services within a specific location or industry.
Having accurate and up-to-date business listings is crucial for establishing credibility and attracting potential customers. It allows people to easily find and connect with your business, driving more foot traffic to your physical store or generating website traffic and leads. Additionally, business listings often provide features for customers to leave reviews and ratings, which can influence the reputation and perception of your business.
History Of Business Listing Sites
The history of business listing sites dates back to the early days of the internet when online directories started emerging. Here is a brief overview of the evolution of business listing sites:
Early Online Directories: In the early 1990s, online directories began to emerge as a way to organize and categorize websites. These directories acted as a central hub for users to find websites based on different categories. Examples include Yahoo Directory and Open Directory Project (DMOZ).

Local Business Directories: With the growth of the internet and the increasing need for local business information, local directories started to gain prominence. Websites like Yellow Pages and Superpages became popular platforms for users to find local businesses based on their location and specific needs.

Search Engine Integration: Search engines, such as Google, realized the importance of providing local business information to users. They started integrating local business listings into their search results, allowing businesses to appear prominently for relevant local searches. This integration helped popularize business listings and made them more accessible to a wider audience.

Dedicated Business Listing Sites: As the demand for business information increased, dedicated business listing sites emerged. Websites like Yelp, TripAdvisor, and Angie's List focused specifically on providing business listings, reviews, and ratings. These platforms allowed users to share their experiences and helped businesses gain visibility and reputation.

Social Media Platforms: With the rise of social media, platforms like Facebook, Instagram, and LinkedIn also introduced business listing features. Businesses could create profiles, provide information, engage with customers, and utilize targeted advertising options to reach a larger audience.

Modern Business Listing Sites: Today, business listing sites have evolved to become comprehensive platforms that offer more than just basic contact information. They often include features like user reviews, ratings, photos, maps, directions, and even e-commerce integration. Popular business listing sites include Google My Business, Bing Places, Yelp, TripAdvisor, and many more.
Overall, business listing sites have transformed the way businesses and consumers connect online, providing a valuable resource for finding, evaluating, and promoting businesses of all types and sizes.
Types Of Business Listings
There are various types of business listings available across different platforms. Here are some common types:
General Business Directories: These directories cover a wide range of businesses across different industries. Examples include Yellow Pages, White Pages, and Chamber of Commerce directories. They often allow businesses to provide basic contact information and categorize them based on industry or location.

Local Business Directories: These directories focus on businesses within a specific geographic area. They are designed to help users find local businesses easily. Examples include Yelp, Google My Business, and Bing Places. Local directories often provide additional features like customer reviews, ratings, photos, and maps.

Niche Directories: Niche directories cater to specific industries or interests. They target a specific audience and provide listings for businesses operating within that niche. Examples include Houzz for home improvement and interior design, Zomato for restaurants, or TripAdvisor for travel and tourism-related businesses.

Review Sites: Review sites allow customers to leave feedback and ratings for businesses. They play a significant role in shaping a business's reputation and influencing consumer decisions. Examples include Yelp, TripAdvisor, and Angie's List. These platforms often combine business listings with user reviews and ratings.

Social Media Business Pages: Social media platforms like Facebook, Instagram, and LinkedIn offer business pages where companies can create profiles, share updates, engage with customers, and provide essential information about their products or services. While not traditional business directories, these platforms serve as online listings where businesses can connect with their target audience.

Industry-Specific Directories: Some industries have dedicated directories that focus solely on businesses within that industry. Examples include real estate directories, legal directories, or medical directories. These platforms provide targeted listings for businesses operating in a specific field.
What Are The Benefits Of Business Listings?
Business listings offer several benefits for businesses of all sizes. Here are some key advantages:
Increased Online Visibility: Business listings help improve your online visibility and presence. When you list your business on popular directories or platforms, you increase the chances of being discovered by potential customers who are actively searching for products or services like yours.

Enhanced Local Search Rankings: Having accurate and consistent business listings can positively impact your local search rankings. Search engines like Google consider business listings as a ranking factor, especially for local searches. Optimizing your listings with relevant keywords and ensuring consistency across platforms can help you appear higher in search results.

Targeted Marketing: Business listings allow you to target specific demographics or local audiences. By listing your business in relevant directories or platforms, you can reach potential customers who are specifically looking for products or services within your industry or location.

Improved Online Reputation: Many business listing platforms include customer reviews and ratings. Positive reviews can help build trust and credibility for your business, influencing potential customers' decisions. Encouraging satisfied customers to leave reviews on business listing sites can enhance your online reputation.

Increased Website Traffic: A well-optimized business listing with a link to your website can drive more traffic to your site. When users find your business listing and are interested in what you offer, they can click through to your website for more information or to make a purchase. This can potentially lead to increased conversions and sales.

Mobile Accessibility: With the widespread use of smartphones, many people rely on business directories and mobile apps to find local businesses on the go. By having your business listed, you make it easier for mobile users to locate and connect with you.

Cost-Effective Marketing: Business listings often provide a cost-effective marketing channel, especially for small businesses with limited budgets. Many directory listings are free or offer basic features at no cost. Even premium listings on certain platforms can be relatively affordable compared to other advertising methods.
Business Listing Sites In India
| | | |
| --- | --- | --- |
| Sr.No. | Free Business Listing Website | Domain Authority(DA) |
| 1. | www.Busyroas.com | 25 |
| 2. | www.indianyellowpages.com | 36 |
| 3. | www.sulekha.com | 76 |
| 4. | www.yalwa.in | 32 |
| 5. | www.asklaila.com | 45 |
| 6. | www.directories.net.in | 14 |
| 7. | www.indyapages.com | 26 |
| 8. | www.fundoodata.com | 36 |
| 9. | www.huntbiz.com | 11 |
| 10. | www.facebook.com | 96 |
| 11. | http://business.foursquare.com | 92 |
| 13. | www.flyple.com | 41 |
| 14. | www.indiabizlist.com | 25 |
| 15. | www.workinfo.info | 6 |
| 16. | www.justdial.com | 62 |
| 17. | www.gbguides.com | 25 |
| 18. | www.businessfinder.in | 15 |
| 19. | www.linkedin.com | 98 |
| 20. | www.smallbusiness.yahoo.com | 90 |
| 21. | www.smartguy.com | 41 |
| 22. | www.indiabusinesstoday.in | 20 |
| 23. | https://indianbusinesscanada.com | 18 |
| 24. | www.clickindia.com | 48 |
| 25. | www.crunchbase.com | 91 |
| 26. | www.freeadstime.org | 37 |
| 27. | https://about.me | 92 |
| 28. | www.yelp.com | 93 |
| 29. | https://in.enrollbusiness.com | 46 |
| 30. | www.yellowpagecity.com | 44 |
| 31. | https://yellowpages.in | 19 |
| 32. | www.yellowbot.com | 58 |
| 33. | http://tupalo.com | 56 |
| 34. | www.yellowpages.webindia123.com | 70 |
| 35. | www.bizztrue.com | 55 |
| 36. | www.expressbusinessdirectory.com | 46 |
| 37. | www.smartguy.com | 41 |
| 38. | https://in.enrollbusiness.com | 46 |
| 39. | www.poweredindia.com | 22 |
| 40. | www.amazon.in | 92 |
| 41. | www.google.com/business | 94 |
| 42. | https://sholay.in | 24 |
| 43. | www.locanto.net | 46 |
| 44. | www.reviewcentre.com | 66 |
| 45. | www.slideshare.net | 95 |
| 46. | www.mouthshut.com | 66 |
| 47. | www.storeboard.com | 55 |
| 48. | https://local.indiaonline.in | 44 |
| 49. | www.salespider.com | 50 |
| 50. | www.showmelocal.com | 50 |